Damir
in Chinese traditional outfit
- hanfu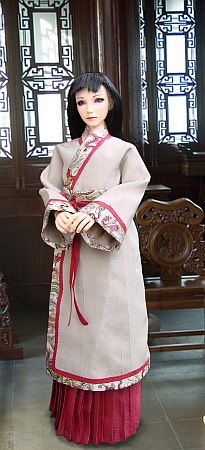 Several years ago a friend gave me two front bodice parts from her vintage dress. It was a genuine Chinese silk brocade, with small dragons and phoenixes on grey background. Not enough of material for a whole dress, but enough for the trims on Damir's hanfu. I combined the brocade with a stronger grey silk and dark red pongee.
I do not claim, that the outfit is accurate, but I tried my best - there are not many sources, when you are not able read in Chinese.....

The one-piece robe that wraps around the body, called zhiju, consists of 2-part top (the left and the right part of the bodice are cut together with sleeves, the vertical seam is on the back) and 8-part skirt. The robe is lined.

Under the robe is the pleated wrap-around skirt. The wonderful invention, called Perfect Pleater helped me to create the pleats.
To the costume belong the brocade belt and soft shoes. The underwear is missing, sorry... The costume is handsewn.