Madelon
French précieuse
(ca 1630)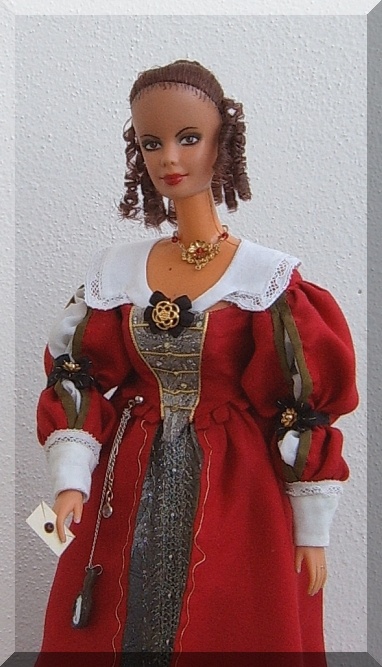 Meet Madelon, an elegant noble and educated lady, who cultivated art of conversation and was interested in science, literature and etiquette... as like as many other French ladies in the first half of the 17th century. These ladies were called "précieuses" for their refined behaviour and language. She doesn't look very kindhearted, but rather clever and self-assured, does she?

The outfit for this doll lied in the box almost for 2 years - I was not able to make her an appropriate period hairdo. So, I forced myself to do it now...
The doll has regular Barbie body (the elbow and wrist joints were added), the head is from Lisa, which was made in China. The outfit has 3 main parts: the dress, the underskirt and the collar.

Description
The raspberry red silk dress is whole lined in a fine olive green silk; it is laced up back. The gathered sleeves, tied up with black ribbons, have long slits, through them you can see white linen undersleeves. The narrow white cuffs are trimmed with a fine lace. The wide skirt is box-pleated and has a slit in the front - so the silver-grey brocade underskirt is visible.
The underskirt is embellished with a horizontal silver crocheted trim, beading and a simple silver and gold embroidery.
The collar has on one end 1/2 of little snap, on the other end is thread eye. The second half of the snap is sewn on the wrong side of the center of the bodice.


There is the white, lace trimmed battiste petticoat and stuffed bumroll under the underskirt. The doll has also the black stockings with the gold and red garters on her feet, and the olive green shoes with red rosettes. The two-part upper is machine sewn; for the soles I used plastic slippers by Mattel and painted them black with colour for plastic kits.


The outfit complement the necklace (made from red beads, one part of an old filligrain button and a metallic cover of bead, all crocheted together with fine golden bullion) and the hand mirror (made from Fimo Soft), hanging on a fine chain.



©molendrix 2004