Description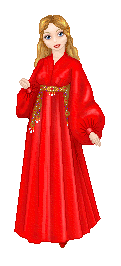 Base
One piece dress for 12" doll.
The riding dress is a variation of the Western European houppelande from 15th century. The high-waisted bodice consists of four parts. The front of the bodice has two pairs knife pleats on each side, the half-circular shaped skirt is also knife-pleated. Bell shaped sleeves are cartridge pleated in the wrist part and into the pleated cuff is inserted another, very narrow cuff. The dress is back laced up, the bodice and the sleeves are lined.
It seems simply, and so it is, if you know, what to do. Well, I didn't - so I sew it "way of the experiment and the mistake", so I don't have any good pattern; sorry.


The only embellishment of the dress is the brown belt. I made it from 5 stripes, embroidered in fine golden bullion with so called "threaded treble running stitch" (the belt) and plait stitch (the hanging parts); then I sewed on flattened golden bead caps and beaded it with red, gold and pearl-like little beads.


The outfit complement red tights and higher plastic red boots by Mattel.